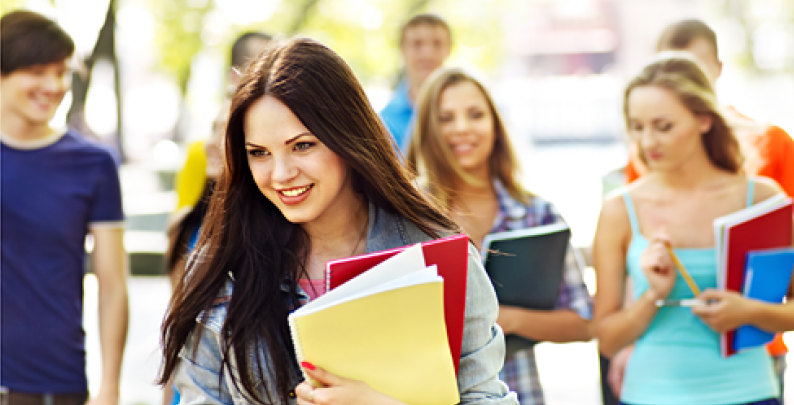 Education in Poland is a high qualified education abroad, it is guaranteed highly paid work, as well as successful career growth. Diplomas of graduates from Polish universities are recognized in Europe and around the world.
Education in Poland — is studying in a European prestigious university for foreign students from different countries, including Ukraine, Belarus and Russia. In Poland, about 76 thousand foreign students get higher education.
Education in Poland — is a stationary and extramural higher education in modern curricula and programs with a practical, modern orientation, it is studying and working in big group.
Education in Poland — is the Polish language courses and further studying at the Academy. Knowledge of the Polish language gives students the opportunity to earn money during their free time, even illegally. Polish law allows it.
Education in Poland — in certain conditions, this is getting higher European education in the Shchecin Maritime University for Ukrainian young men and women completely free of charge. Admission to the university takes place in two cycles: the beginning in September and February.
Education in Poland — is a real opportunity to work and earn in Poland, improve your professional level, and then legally acquire your housing and get a residence permit.
Why Poland?
The advantages of education in Poland are obvious. Today, the prices for education in Ukraine and in the CIS countries have increased. For comparison, the cost of education in Polish universities in UAH is from 7,500, when in Ukraine it is only from 12,000. But at the same time, we understand what kind of education we will get and what employment prospects we can talk about.
Despite the fact that, as they say, the education system in the CIS countries has already reached European standards to the maximum, students do not feel this. After all, how can you feel what is really not. What we have is a mixture of the former Soviet education (we learn everything) and the European standard assessment system (letters A, B, C, D, E, F, FX).
The Polish education system, in comparison with the post-Soviet system, is fully integrated into the European system, except for the assessment system. This means quality, modernity, compliance with the requirements of the labor market and the prospect of a young specialist.
Moreover, a Polish diploma is valid in all EU countries, including Ukraine, Russia and other CIS countries. This is one of the most important factors, because no one knows how life circumstances will develop and where you will have employment opportunities. In addition, if you want to return to Ukraine, employers will consider your resume as a resume of a European-style specialist, which doubles or even quadruples your chances of holding the post of your dream.
There is a kind of myth that after the end of the higher educational institution the classmate is a Pole – the Pole will have the best prospects for a good job. But, believe me, it all depends on the person and the efforts that he reports to fulfill his dream. It is necessary to take into account the fact that having arrived in Poland, you will already be fluent in two foreign languages – Ukrainian, Russian. And over the years of study, learn to perfect English, Polish and another foreign language to choose from. Possessing 5 foreign languages, you have a significant advantage in the labor market in such sectors as tourism, transport, international management, journalism and many others.
The choice of future profession and university is a very important and serious decision in the life of every person. Therefore, taking into account all the pros and cons, you yourself will come to the conclusion that education in Poland – is what you need as a future specialist of the European level.
Education abroad – Education abroad is an unforgettable student life is full of positive emotions, new meetings , fantastic plans for the future.
Advantages of Poland over other European countries for education
Poland is a member of the European Union and the Schengen countries.
The proximity of the cultures of Poland and Ukraine contributes to the rapid adaptation of Ukrainians and Russians to life in the country.
Simplicity and accessibility of learning Polish (Slavic language group).
The goodwill of the Poles to immigrants from Ukraine.
Territorial proximity of Poland and Ukraine.
Ease employment – the labor market in Poland needs of skilled labor due to the outflow of Poles to Western Europe.
Poland has a highly developed economy. Poland's economic performance is high, and growth rates provide grounds for optimistic forecasts for the future.
Poland has a rich and diverse natural environment (lakes, forests, mountains, access to the sea).
Features of education in Poland:
the cost of training is much lower than in other universities in Europe;
living expenses, food, transportation are lower than in the UK, Germany, Austria and other European countries;
students have the right to work during their studies (for 6 months while studying);
there is the possibility of concluding a contract with European companies;
there is the possibility of internships and internships while studying at a university (including abroad);
students automatically receive a deferment from the army;
students get a Schengen visa, which means that they can freely visit all Schengen countries;
parents of students can also get a guest visa to Poland and visit their child;
Attendance at lectures is not necessary, but exams are required. Therefore, students who do not have the time management skills should learn to plan the time needed for learning;
in Poland, there is a transfer system for the next semester "with the condition that the exams were not passed". Sometimes, students perceive this as a failure to surrender certain items. However, the student will not receive a diploma until he passes all the exams and scores the necessary points in the European Point Recalculation System used in the Polish education system.
Studying abroad – is a chance to arrange your future in a civilized country, to open your business, where there is no corruption, racketeering, fraud and theft.